Kartika is the eighth lunar month in the Hindu calendar, from 1st November to 30th November and it's also the month of auspicious rituals of festivals, prayer, and personal practices.
Known as the holiest month of the year, Karwa Chauth, Ahoi Ashtami, Rama Ekadashi, Dhanteras, Narak Chaturdashi, Lakshmi Puja, Gowardhan Puja, Bhai Dooj, Chhath Puja, and Tulsi Vivah, are some of the festivals celebrated in Kartik month, with the most important one being, Diwali (traditionally known as Deepavali).
Kartika month culminates on the Full Moon day (30th) of the month referred to as Kartik Purnima and it is believed that during this month the rays of the Sun and Moon have a positive effect on the mind and body.
We say goodbye to the Pitta season and hello to the Vata season. This transition from summer to autumn, is known as 'rtu sandhi' in Ayurveda. Our bodies respond to these atmospheric changes, just as nature does, and when one season gives way to another our bodies and our mind also undergoes this transition.
Rituals of fasting, donating, praying and meditating during this month all contribute to discarding negativity and adopting positivity and blessings for the year ahead.
Below are the auspicious Kartika month dates and some additional special events taking place this month too.
Rituals for these special days can be found on the align27 app.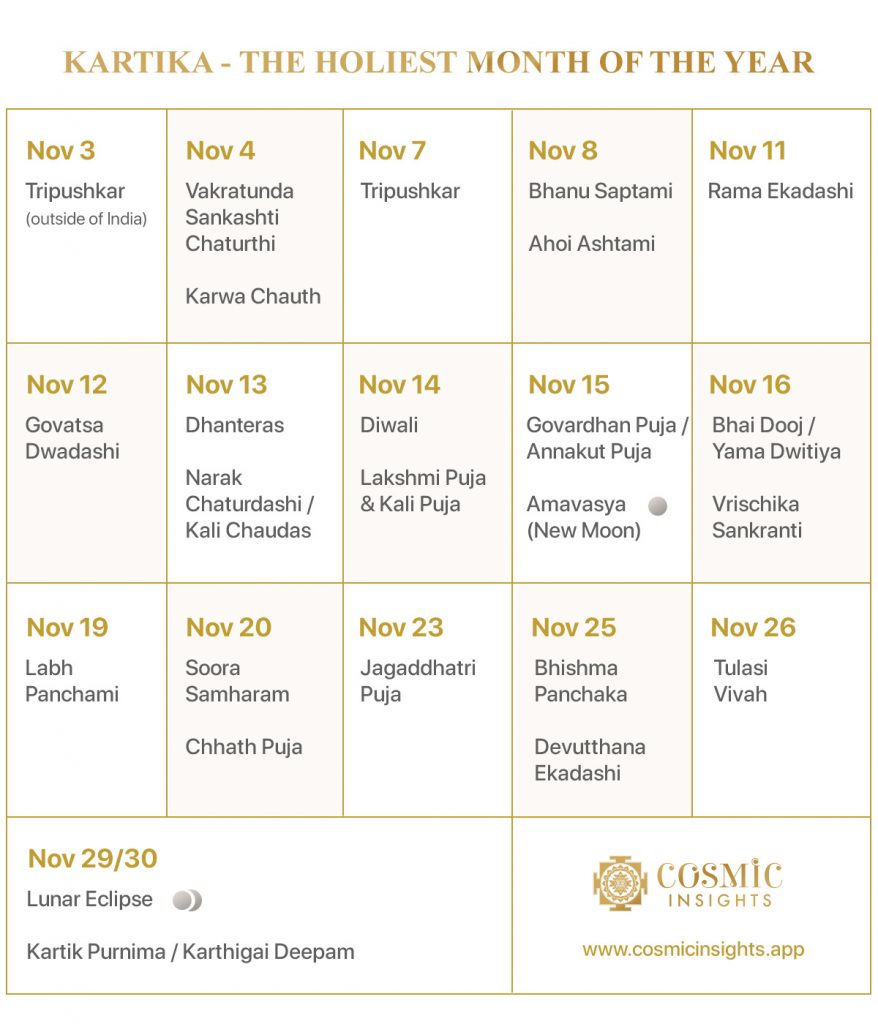 3 & 7 November – Tripushkar
Tripushkar describes intersection points between a particular planet, nakshatra and time period and can cause a person to repeat certain patterns or events. During Dwipushkar Yoga, it will likely repeat once again; if it occurs during Tripushkar Yoga, it might repeat three times in total. Therefore, during these yogas, it is best to choose activities that you would not mind repeating such as receiving money owed, investments, donating and steering clear of conflict, confrontation and negative thinking patterns.
4 November – Vakratunda Sankashti Chaturthi
A powerful fasting day, dedicated to Lord Ganesha, the remover of all obstacles, to remove difficulties and hurdles in life. Fasting on this day from sunrise to sunset, ends with a dedicated ritual ceremony which can be conducted in your own way to honor and thank Lord Ganesha, once the Moon has risen in the sky.
4 November – Karwa Chauth
A day marked to celebrate the bond of love and trust shared by couples, existing or to-be. Fasts on this day are broken after sighting the Moon at night and worshipping the Moon god.
8 November – Bhanu Saptami
Bhanu Saptami is traditionally believed to be the birthday of Lord Surya (or the first time the Sun God appeared). You can offer Arghya (water ritual) to the sun whilst chanting the Gayatri Mantra or the Sun mantra, "Om Suryaya Namaha" whilst facing East.
8 November – Ahoi Ashtami
This is a festival celebrated eight days before Diwali, dedicated to Goddess Ahoi, who is an incarnation of Goddess Parvati and worshiped and honored by mothers for the well-being of their children. Mothers fast from sunrise until after sighting stars in the sky. This day is also known as Ahoi Aathe because fasting for Ahoi Ashtami is done during Ashtami Tithi, which is the eighth day of the lunar month.
11 November – Rama Ekadashi
On this day people worship Lord Vishnu and Goddess Lakshmi (Rama is another name of Goddess Lakshmi). The most important ritual of this ekadashi is observing a fast. It is considered an auspicious day to get rid of sins.
12 November – Govatsa Dwadashi
Govatsa Dwadashi is referred to as Vagh, which implies repaying one's financial debts, so people use this day to pay debts and not make further transactions. It is a thanksgiving festival to cows for their help in sustaining human life and therefore both cows and calves are worshiped and fed with wheat products. By fasting on this day avoiding wheat and dairy, it is believed that by these observances and worship, all wishes will be fulfilled.
13 November – Dhanteras
Dhanteras marks the beginning of Diwali and is celebrated on the thirteenth day of the waning phase of the moon in the month of Kartik. According to legend, Lord Dhanavantri (the God of medicines and Ayurveda) and Devi Lakshmi (the Goddess of wealth) emerged on this day from the Kshirasagara (cosmic ocean) when the gods and demons churned the ocean in an event called Samudra Manthan to obtain Amrita (the nectar of immortality). Rituals to honor both Dhanavantri and Laksmhi including lighting lamps and prayer – it is also auspicious to buy new things on this day especially precious items.
13 November – Narak Chaturdashi / Kali Chaudas
Narak Chaturdashi is a festival celebrated on the 14th day of the waning moon. It is also known as Narak Chaudas, Roop Chaudas or even Kali Chaudas. Astrologically, the day is considered to be the significator of the dark areas of life. The worship and honor of Goddess Kali on this day is believed to alleviate negative aspects of life. It's a reawakening of the secretive world of the unknown.
14 November – Diwali
Diwali marks the day of Lord Rama's return to Ayodhya, his birthplace after completing a fourteen-year long vanvas (exile) on Amavasya Tithi, Kartik month. Since it was a New Moon Day, and there was no moonlight, the people of his kingdom lit oil lamps to welcome him and celebrate his homecoming. The Sanskrit word Dipawali literally means "row or series of lights". But Diwali is more than one day of festivities; it is the coming together of many traditions and rituals; of food, of auspiciousness and of togetherness.
14 November – Lakshmi Puja and Kali Puja
On this day people perform Lakshmi Puja to welcome the Goddess of wealth and pray to her for a wealthy and prosperous life. Some people also worship Goddess Kali, one of the fiercest avatars of the Mother Goddess.
15 November – Govardhan Puja / Annakut Puja
A day to celebrate the victory of Lord Krishna over Indra Dev. This festival is associated with the Govardhan Parvat (hill) that Krishna lifted with his little finger to save the people of the Braj region from torrential rains.
15 November – Amavasya (New Moon)
Amavasya in Sanskrit means "day of new moon". It also means "belonging to the new moon or its festival". Diwali, falls on the Amavasya which is dedicated to Goddess Lakshmi and is also considered an ideal day for Pitru (ancestral) Puja. On this day during Mahabharata, it is said that Lord Krishna shared the importance of Kartik Amavasya saying, "this day is very dear to me, if a person worships or honors me on this day, the malefic effects of the planets (Grah Dosh) will not affect their life.
16 November – Bhai Dooj / Yama Dwitiya
Yamraj, the lord of death, is worshipped on Yama Dwitiya, which is observed on Dwitiya Tithi during Kartik month. Apart from Yama Puja, the day is more popularly known as Bhai Dooj. As per Yama Dwitiya legends, Goddess Yamuna fed her brother Yamraj on Kartik Dwitiya at her own home. Since then, it is known as Yama Dwitiya and it is believed that sisters who feed their brothers on this auspicious day are forever blessed and for the brothers, eating at their sisters' homes gives them a good, long life.
16 November – Vrischika Sankranti
Sankranti means the transit of the Sun from one zodiac sign to another sign. The Sun is indicated as the spirit of all physical and non physical elements. When the seasons change, the earth produces grains which provides maintenance. The time of Sankranti is auspicious and it is good to think of others less fortunate than ourselves and to help them. It is also a time to remember ancestors.
19 November – Labh Panchami
Labh Panchami is the final festival of Diwali. The word 'Labh' signifies 'benefit' and 'good luck. Hence, this day is an auspicious day for initiating a new business venture and considered to bring good luck and prosperity in one's life. Prayers are offered to Lord Ganesha and Goddess Lakshmi for well-being and prosperity. Food, money and clothes are also donated to those less fortunate and pujas are performed to bring wealth and good fortune personally and professionally.
20 November – Soora Samharam
This day marks the triumph of Lord Kartikeya or Murugan over a demon named Soorapadman and is celebrated on the last day of the auspicious Skanda Sashti fasting. This day of triumph of good over evil is dedicated to the worship of Lord Murugan for restoring Dharam (cosmic law and order) and liberating earth from evils.
20 November – Chhath Puja
The Sun God, Surya, the god of energy and life-force, is worshiped during Chhath Puja to promote well-being, prosperity and progress. The Chhath festival occurs when the Sun is situated in the southern hemisphere of the earth and its ultraviolet rays are at its peak. The offering of arghya (water ritual) to the sun on Chhath puja protects us from these rays and in turn absorbs the positive effects, which can help destroy disease, provide health, wealth and self confidence. The main feature of this festival is the simplicity of tradition and the love for purity and nature.
23 November – Jagaddhatri Puja
'Jagaddhatri' means 'Holder (dhatri) of the World (Jagat)', the saviour of the universe who comes to save the people from demons. She is an avatar of Goddess Durga, the Sattva aspect of the Mother Goddess whose Rajas and Tamas forms are represented by Durga and Kali, respectively — all three making up the basic components of Hindu philosophy.
25 November – Bhishma Panchaka begins
The last five days of the month of Kartika are traditionally known as the Bhishma Panchaka or the Vaka Panchaka. It is good to fast on these days and to honor and pray to Lord Vishnu. A unique ritual during the fast is making offerings in 5 numbers – five fruits, five flowers etc. to Lord Vishnu.
25 November – Devutthana Ekadashi
Ekadashi in Shukla Paksha of Kartik month is known as Devotthan, Devuthani or Prabodhini Ekadashi. This Ekadashi comes after Diwali. As Lord Vishnu sleeps on Ekadashi of Shukla Paksha in Ashadh month and wakes up on Ekadashi of Shukla Paksha in Kartik month, that is why this Ekadsahi is known as Devutthana Ekadashi.
26 November – Tulasi Vivah
Tulasi (holy basil) Vivah is the ceremonial marriage of the Tulsi plant (holy basil) to Lord Vishnu or his Avatar Krishna. This 'wedding' signifies the end of the monsoon and the beginning of the wedding season in India. Tulsi, an incarnation of Goddess Lakshmi, is regarded with great respect as a goddess in Hinduism and is sometimes considered as a wife of Vishnu.
29 / 30 November – Lunar Eclipse / Kartik Purnima Karthigai Deepam
Full Moon in the month of Kartik, known as Kartik Purnima, is considered among the most auspicious in the year and is celebrated when the Moon is in Krittika nakshatra. It is celebrated for Lord Shiva and his son Muruga. Lighting of lamps forms an integral ritual of this festival and also has a spiritual significance. The wick in the lamp symbolizes our ego, the oil in the lamp denotes our innate nature that cultures the ego and the flame signifies the spiritual wisdom that can inflame the ego (wick) by burning out the innate behavior (oil). Lighting of the lamps represents victory of good over evil. On this day people light lamps in their homes to usher prosperity and auspiciousness into their lives and ward off negativity.
More information and rituals that you can perform for these dates and all important festivals throughout the year can be found on the align27 app.