Tithi in Jyotish is the lunar day. It is one of the most important limbs of the Panchang (Almanac). It is based on the relationship between the Sun and the Moon.
The waxing phase of the Moon is called Shukla paksha and the waning phase of the Moon is called Krishna paksha. Each paksha has 15 tithis associated with them.
Lord Ganesha is the closest to the material plane, and HE is the one who can help us during this Kali Yuga. Success comes when we are at the right place at the right time grabbing the right opportunities. Worship of Lord Ganesha not only helps to remove obstacles in life, it also helps with the intuitive power to be at the right place at the right time! HE has the power to change a bad day into a good one.
There is a specific form of Lord Ganesha associated with each of the 15 tithis.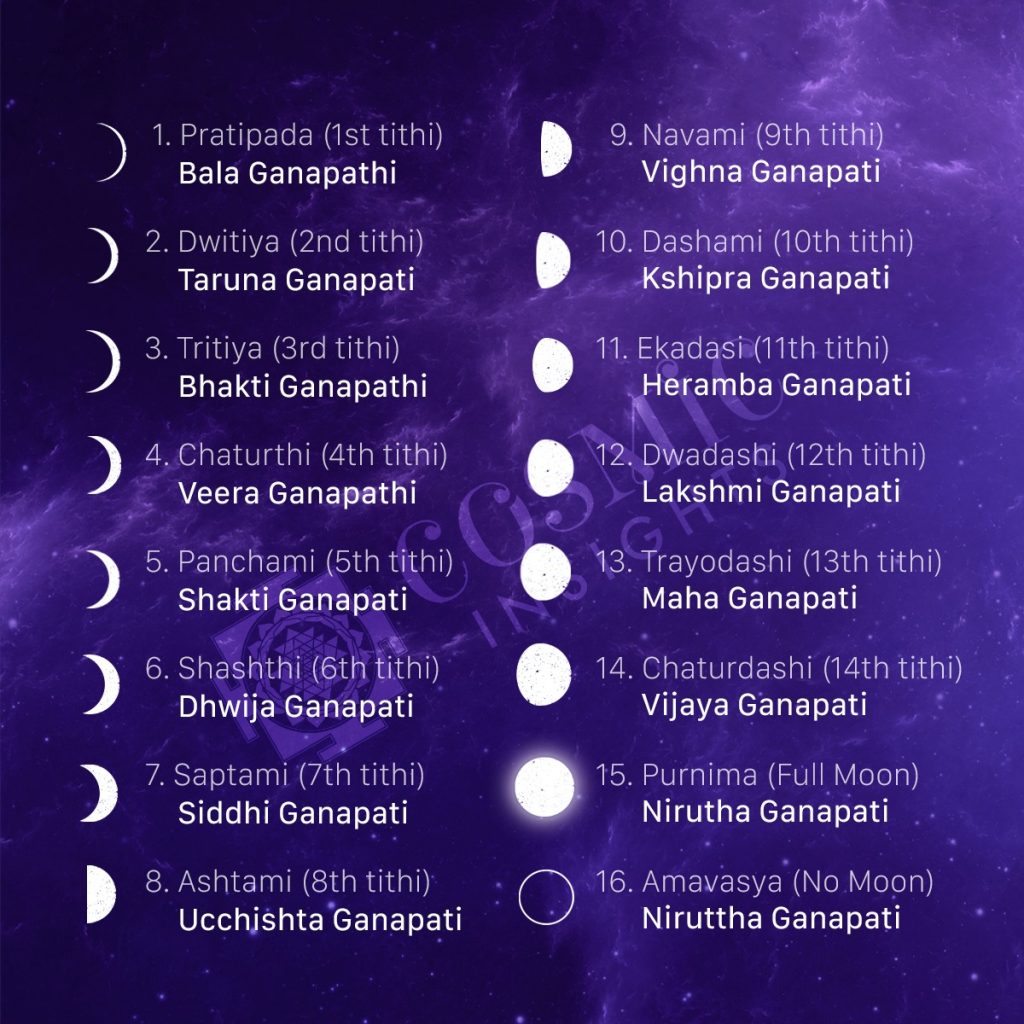 Pratipada (1st tithi) – Bala Ganapathi
Dwitiya (2nd tithi) – Taruna Ganapati
Tritiya (3rd tithi) – Bhakti Ganapathi
Chaturthi (4th tithi) – Veera Ganapathi
Panchami (5th tithi) – Shakti Ganapati
Shashthi (6th tithi) – Dhwija Ganapati
Saptami (7th tithi) – Siddhi Ganapati
Ashtami (8th tithi) – Ucchishta Ganapati
Navami (9th tithi) – Vighna Ganapati
Dashami (10th tithi) – Kshipra Ganapati
Ekadasi (11th tithi) – Heramba Ganapati
Dwadashi (12th tithi) – Lakshmi Ganapati
Trayodashi (13th tithi) – Maha Ganapati
Chaturdashi (14th tithi) – Vijaya Ganapati
Purnima (Full Moon) – Nirutha Ganapati
Amavasya (No Moon) – Niruttha Ganapati
Worshipping the form of Lord Ganesha associated with the tithi of the day helps us glide through uncertainty, chaos and change with ease and grace. The align27 app keeps track of this and helps you chant the correct mantra based on the tithi every day.
Turn your Greatest Challenges into your Greatest Strengths by worshipping Lord Ganesha based on the tithi!
Follow us on Instagram for interesting insights!